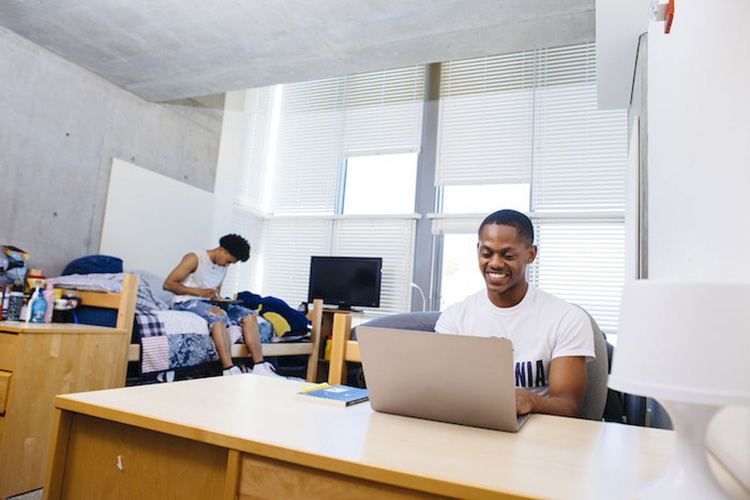 For current or prospective undergraduate students, explore your UC Berkeley housing options below.
Living on Campus for First-Year Students (including Fall Program for First Semester Students)
Living in campus residence halls is the most popular choice for  incoming first-year students, with 96% of them choosing the community, convenience and academic advantages that come with living in residence halls. All Berkeley residence halls include live-in staff (providing both social and academic support), utilities and wi-fi, security, community centers, on-site laundry, easy access to transportation, and much more. Residence hall contracts include a Berkeley Dining Blue Meal Plan (learn more about Meal Plans, with flexible upgrade plans and add-on flex dollar options). Your residence hall options are:
You may also consider becoming a part of a close-knit community by living in one of our Theme Programs. There are eight living-learning communities in the residence halls where students sharing a scholarly interest live together and participate in programs specially designed around the community theme. Activities center around the thematic connection and may include off-campus excursions, workshops, faculty dinners, study groups, social events, and other opportunities. You can indicate which of these optional Theme Programs you are interested in when you submit your housing application: African American (AATP), Bloom Asian American, Casa Magdalena Mora (Casa), Global Environment Theme House (GETH), Native American (NATP), South Asian, Southwest Asian, and North African Living Community Pilot Program, UNITY Theme Program (UNITY), Empowering Womxn in STEAM (WISE).
*Location is an affiliated property assigned by the university. On-site management is overseen by public-private partners.
Living on Campus for Transfer or Continuing Students
For transfer students as well as continuing students who want to live in campus housing, you may choose either the convenience, amenities and support of a residence hall or the independent living environment of a campus apartment.
Your residence hall housing options are:
Your campus apartment housing options are:
*Location is an affiliated property assigned by the university. On-site management is overseen by public-private partners.
Living in Family Student Housing
For undergraduate students who are married/partnered, with or without children, or who are single parents, you may want to consider University Village, UC Berkeley's 58-acre complex located 3.5 miles west of campus. With 974 apartment and townhouses, University Village has its own recreational and community center, a café, laundry rooms, and child care center.
Living Off Campus
Our Cal Rentals housing service has resources and listings to help you find off-campus housing. If you choose to find private housing on your own, especially if you're a new student or new to renting, we recommend you explore Cal Rentals' free advising and rental resources.