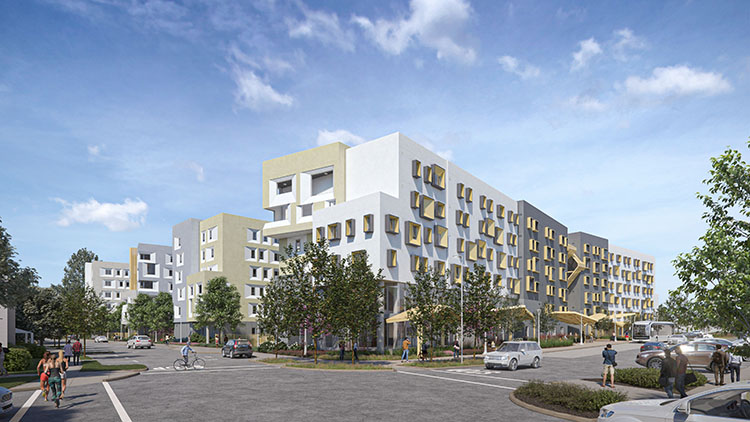 UC Berkeley is proud to announce the anticipated Fall 2024 opening of the Albany Village Graduate Student Apartments — an exciting new housing option for single graduate students.
Fully-furnished apartments will feature large windows that allow abundant natural light into bedrooms and living spaces. Each apartment will include a full kitchen with major appliances, as well as an in-unit washer and dryer.
Beyond their apartments, students will discover spaces for social interaction and well-being, including lounges and meeting rooms. A series of outdoor courtyards will provide more than 55,000 square feet of space for relaxing, studying and socializing. Students can lounge and explore gardens with native plants and lush trees, host barbeque gatherings, and take advantage of recreational spaces on new multi-use lawns and terraces.
Location
The Albany Village complex is located in the neighboring city of Albany, just 3.5 miles west of campus. It is adjacent to University Village, UC Berkeley's 58-acre family student housing complex, and is conveniently located near shopping and restaurants.
The apartments are served by a direct AC transit bus to campus. A new transit plaza will be added along Monroe Street, directly in front of the apartments. There, students will be able to easily catch a direct ride to campus.
Timeline
It is anticipated that applications for the 2024-25 academic year will be accepted beginning in spring 2024. Graduate students will receive further information about the project as the timeline is finalized.
For updates on the project's construction, please visit the Capital Strategies Albany Village page.